good on your wall
Jul 12
[video]
Jul 11
[video]
Jul 03
[video]
Jul 01
A Cracking Print
2009 University of Brighton Illustration Graduate Kyle Bean is a rising star. Since graduating he's built up an impressive client list and portfolio; Wallpaper Magazine, New York Times, Diesel, Selfridges….
He is already well blogged about on tumblr and beyond so this is a quick pick to let you know some of his work is now available as limited edition prints on his rather splendid website (designed by the equally talented Josh Emerson).
Our fave is 'What Came First', Kyle's playful visualisation of the age old question. It's really worth checking out his other work as well, such as the evolution of the mobile phone.
'What Came First' is available as an A4 signed limited edition of only 100 and only £22. A good one for the kitchen wall and one to get while you can.
Eggcellent (sorry, second 'bad egg' pun - actually that kind of makes it three now. I'll shut up).
Jun 30
Return to Roanoke - goodonyourwall interviews Toobz
So we were just about to leave Roanoke, and make our way to Lille, France when we managed to secure an interview with our featured artist Scott 'Toobz' Noel.
So read on to find out what makes Toobz tick…

GW: Tell us a bit about yourself, we understand you are completely self taught, did you not study at school or college?
TZ: Well I soon realised early in life that most things have a similar process. It starts raw then we add all of our influences and that little bit of ourselves into it then you are accomplished -whether it be the success of a goal or personal contentment. I am self taught. I like it that way but there are techniques I lack so one day I'd like to study for the interaction with teachers and other students. My life is completely backwards in the way things are patterned out. So I just float around till time makes a slot for me to fill the hunger.

GW: Tell us a bit about Roanoke - did you grow up there, what's it pluses and minuses?
TZ: No. I was born in a town about an hour away and then left to explore the East and West Coast. I ended back over here near where I started and am growing to like the seasons and the quietness. Roanoke has its nature/beauty but lacks in the artists category. I can count on one hand the amount of artists I admire here. However there is a growing awareness of the arts and good heathy food so things are looking up!

GW: What's the art and creative scene like?
TZ: Its desolate. But I'm slowly staring to educate and carve myself way a future here.

GW: From what we can see there doesn't seem to be much urban or graphic art going on in the city. Your work really seems to stand out - any other local work you like?
No I am the only that I know of in town, doing what the rest of the world is doing so well. It's kind of nice to own the city this way but I need company sometimes and friendly competition. I like my friend Calvert Lafollette… I would like to work with him more in the future…

GW: You've talked about moving away from graffiti in its traditional sense and hoping to develop your work for exhibitions, commissions and sales. How's this going?
TZ: I just go back and forth. I get bored with a medium and then find something else to learn. I doubt I will ever stray away from anything that has led me awareness and the fulfillment of true happiness. Like skateboarding, I will always forever feel the love for that because I spent all of my younger years trying to master it but I don't spend hardly any time on keeping up with it or doing it now. But when I do I never lose the feeling or skill that I earned. I'm always looking around for something and always will be doing graffiti. The galleries, exhibits, and commissions are a way to pay bills and soon hopefully lose the job. I just want to spend most of my time becoming a more accomplished artist.
GW: What are your future plans?
TZ: I see glimpses of things to come but the timing is too unpredictable. I can force options to happen but it just doesn't feel as natural to me so I am just letting things happen on their own. I really want to do big projects that will make a difference to me and the handful of people that will appreciate it.
GW: What or who inspires you?
TZ: Everything. Moments in time that catch my attention.
GW: What's the background with the animal hybrids - some seem quite serene while others slightly 'dark'?
TZ: It has a lot to do with me trying not burrow to deep into the dark around here so I gradually bring an acceptance to the public then ease them into the understanding that darkness is part of us all and we need to accept this. Animals are perfect and humans have come to believe that they are not. We have chosen this attitude to form excuses when we fail. We are very similar to everything around us and shape ourselves into the resemblance of things that are perfect or things that don't have to be perfect.
GW: Are you working full time as an artist, what pays the bills?!
TZ: No not yet it is hard living in a small town with minimal opportunities. But every year gets closer and better. I have a full time job, I work at nights and sleep during the day. I awake for a few hours to get things done. It is a struggle but hopefully it will payoff.

GW: Where can we buy your work?
TZ: Right now I am working on a website but time is an issue here as well so hopefully soon! But networking on Facebook and email. I also am building some fans so occasionally they buy.

GW: Do you produce any prints as well as originals?
TZ: I'm working on getting some prints made for things that I think are worthy to duplicate. But I've only really been driven within the last couple of years. I did graffiti for a while and sketched at life and now I am seeing things evolving before my eyes! It's exciting!
GW:Have you ever worked in digital art - Illustrator etc or is it all about the spray can for you?
TZ: I love all mediums but spray is love of mine. Oil and acrylics are becoming one of my favorites too. These are new mediums are growing on me fast. I just need to acquire techniques to achieve the affects I'm looking for. Digital is fun and I think it has huge potential but I don't like to sit completely still staring at a screen for hours. I split it up. I work for an hour then ride my bike for 45 mins then back to it till things are done.
GW: How can we stay up to date with your work?
TZ: By going to this blog and Facebook. Hopefully soon with my site if I ever get it done. Word on the street.
GW: Familiar with any UK artists?
TZ: I like Mode 2, that's the first to pop in my head. There are others and I know there are ones doing incredible work that i don't know about or will soon find out!
Toobz - thanks so much, stay in touch.
Jun 27
Next stop…
Arty days around the world #2 - We're on our way to Lille, France. We'll let you know when we have arrived safely.
Wish us bon voyage.
goodonyourwall x
[video]
Jun 23
Film posters not Poles apart
The very cool independent movie magazine Little White Lies (thanks to @drtjam for this lead) is hosting an exhibition of specially commissioned illustrations of iconic films from the 70s, reimagined in the style of their own mag covers. Here are a couple of our favourites: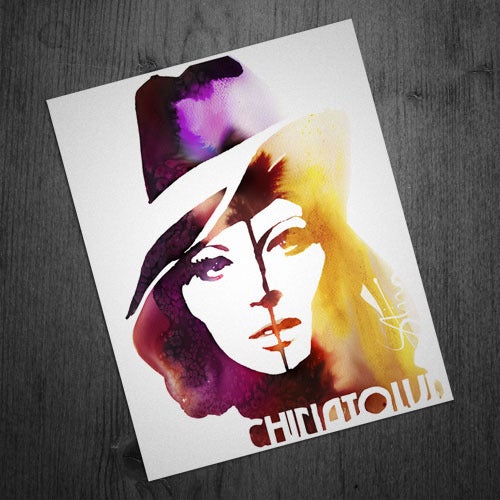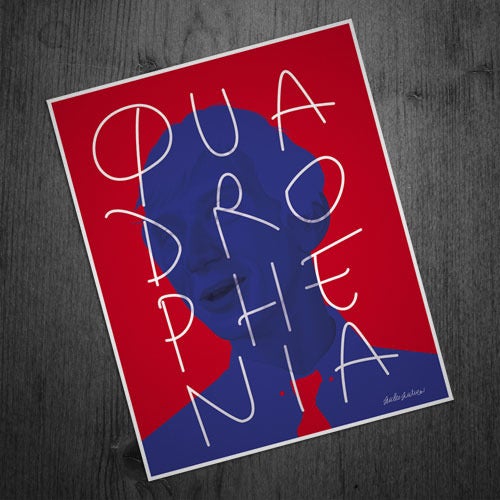 They're all £45 giclees, printed on archival paper and hand embossed with LWlies logo. A good price we think.

The free exhibition is at Kemistry Gallery (very good), in East London and runs from Friday June 17 to Saturday July 2.
If you're interested in these then you might also enjoy looking at some of the classic Polish film posters. After World War II Poland was under the control of the Soviet Union and Communism. Western consumer culture and advertising unsurprisingly were not too popular so Polish designers and illustrators did their own thing with some fantastic results . If you'd like to learn more about the interesting history here's an article from Smashing Magazine. Below are a couple of greats. Many of the Polish posters are highly collectable now and according to cinemaposter.com (which seems to be the definitive site) prices range from $100 to $5000. Get in there!
"The best works should reach the $10K range within a decade, and an average price may easily quadruple."
Jun 20
Arty days around the world
goodonyourwall has decided to travel the world - from the sofa - in search of prints and other creative coolness
In an occasional series we shall be using the rather fun geo-pick.com to select a random city and country and go exploring.
We will be looking for creative individuals to report on from wherever our travels take us. We're not looking for big name artists with galleries and loads of press simply creatives who we think deserve a mention.
To keep things simple the search for now will be limited to North America and Europe. Still a fair bit of ground to cover I'm sure you will agree.
If we are struggling to find anything in the chosen city our search will extend into the surrounding regions until we find something.
Ok so our first destination is….(drumroll, oh the excitement)…. Roanoke, Virginia, USA (Nope me neither.)
Jun 15
Vorticism, Futurism and Darth Vader
The recently launched Vorticism show at the Tate Britain reminded me of my time studying Cubism and Futurism at school and college, both art movements I've always liked.
The Vorticists were a bunch of British painters working in the years leading up to the First World War. It was a kind of British alternative to Futurism.
Their head guy was a dapper young fellow named Wyndham Lewis. Look how cool he was; he knew he was cool. Although apparently he did decide to drop the name 'Percy' which he didn't think was that cool, especially if you were going to open an art workshop called The Rebel Art Centre. 1915 -Very Punk.
Unfortunately things didn't pan out too well for Percy and his pals - sorry Wyndham, but I like the alliteration. They only published two issues of their magazine and had one exhibition, then the war broke out which put a bit of a damper on things.
I'd never heard of the movement until the Tate show and to be honest from what I've see so far I'm think I'm more interested in the back story than the art, but I will look into it more.
Futurism, I do like though especially Marcel Duchamp's Nude Descending a Staircase, No 2. My fondness probably relates to it relationship with photography and film which I studied too.
"But what of Darth Vader?!" I hear you cry. Well, the various 'isms' of above reminded me of the illustration work of Liam Brazier I came across a while ago.
I'm by no means the first to blog about Liam's striking series of Star Wars prints, but if you haven't come across them their well worth checking out. My favourites are the Dark Lord shown below and Bounty Hunter Boba Fett. They combine my (and mosts) compulsory thirty-something love of Star Wars with a very effective nod to the Cubist and co. art movements. There's a lot of naff fan art around for movies and sci-fi stuff, however I think Liam's work transcends this with a classy ease.
They are all available at very affordable prices, see his website for more details and his other work.
In a strange coincidence I've also discovered that me and Liam went to the same Uni and graduated the same year! So hello Liam and congrats on the good work, looks like things are going well.
May the Vorticists be with you (sorry.)